Dialectical Perspectives on Cultural Learning
Humor, small wins, and improvisation; According to Weick and Westley (1996), those are three mechanisms that can help individuals seeking to find some type of organizational learning.  It is said that these agents preserve a healthy tension between the formal structure and flexibility that exists within the organization.  These learning mechanisms are part of what is known as the dialectical theory. 
"'What is Dialectical Theory'? According to Rob Anderson (2002), dialectical theory examines how relationships develop from the interplay of perceived opposite forces or contradictions and how communicators negotiate these ever-changing processes (p.350)."
The included table (top right) illustrates how the learning mechanisms discussed above play a role in the dialectical process.
Anderson, R. & Ross, V. (2002). Questions of communication 3rd ed. (J. Bartlett, Ed.).
Boston: Bedford J St. Martin's.
Bess, J. & Dee, J. (2008). Understanding College and University Organization: Theories For  Effective Policy and Practice. Sterling, Virginia: Stylus Publishing.
The Learning Organization
According to Bess and Dee (2008) the learning organization "Seeks to indentify organizational characteristics associated with learning and effectiveness… These characteristics are most liely to promote the disposition of workers to change quickly and to accept new ideas" (p.696-697)
Peter Senge (1990) developed five disciplines, which he felt could serve as a guide for organizational learning, and those organizations who desire to be a learning organization.  The disciplines include: Personal Mastery, Mental Models, Shared Vision, and Systems Thinking.  It is Senge's belief that when members of the organization have learned these disciplines, their organizations  will have learning that is guided by not just top level managers, but rather the entire group.
Bess, J. & Dee, J. (2008). Understanding College and University Organization: Theories For       Effective Policy and Practice. Sterling, Virginia: Stylus Publishing.
Senge, P. (1990). The fifth discipline: The art and practice of the learning organization. New York: Currency, Doubleday.
 Single and Double-Loop Learning
Bess and Dee (2008) offer that, "Argyris and Schon's (1978) theory of single-loop and double-loop learning is one of the most prominent cognitive theories of organizational learning.  Single loop learning is defined as the learning that occurs from feedback generated by monitoring the effects of ongoing organizational process and behaviors" (p. 674).
Double-loop learning takes learning a step further.  In addition to monitoring and correcting behavior, double loop learning suggests assessing and if needed changing the policies, goals, and plans that go along with those behaviors.  The following table can be used as an aide to better understand the difference in the two learning theories.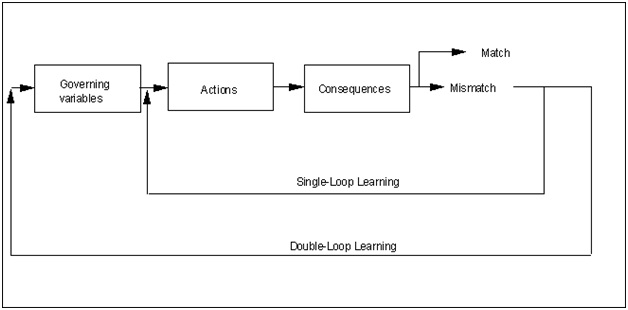 Ad blocker interference detected!
Wikia is a free-to-use site that makes money from advertising. We have a modified experience for viewers using ad blockers

Wikia is not accessible if you've made further modifications. Remove the custom ad blocker rule(s) and the page will load as expected.